CoolSculpting In Chadds Ford, PA
Reduce stubborn bulges without surgery or downtime with CoolSculpting, the #1 non-invasive fat reduction and body contouring treatment in the world. Utilizing state-of-the-art cooling technology, CoolSculpting safely freezes stubborn fat cells that resist diet and exercise, allowing millions of men and women to eliminate belly fat, love handles, double chins, bra bulge, upper arm fat, thigh fat, and more. Given the nickname of "lunchtime lipo," most cooling cycles take as little as 35 minutes and patients may return to their normal activities immediately. Moreover, numerous clinical studies and thousands of raving CoolSculpting reviews substantiate this FDA cleared treatment as safe and effective. Best of all, CoolSculpting results look natural and are clinically proven "very long-lasting."¹
Find out if CoolSculpting is right for you by scheduling a complimentary consultation with the CoolSculpting experts at Contoured. Conveniently located in Chadds Ford, Contoured is the premier CoolSculpting Pennsylvania provider and is proud to serve the communities of Philadelphia, Chester, and Delaware counties.
What are the Benefits of CoolSculpting?
Non-surgical alternative to liposuction
5 million + treatments performed to date
Spot reduce bulges that resist diet and exercise
Sculpt attractive contours & define muscles
Visible results that looks natural
Long lasting fat reduction
Painless* and no downtime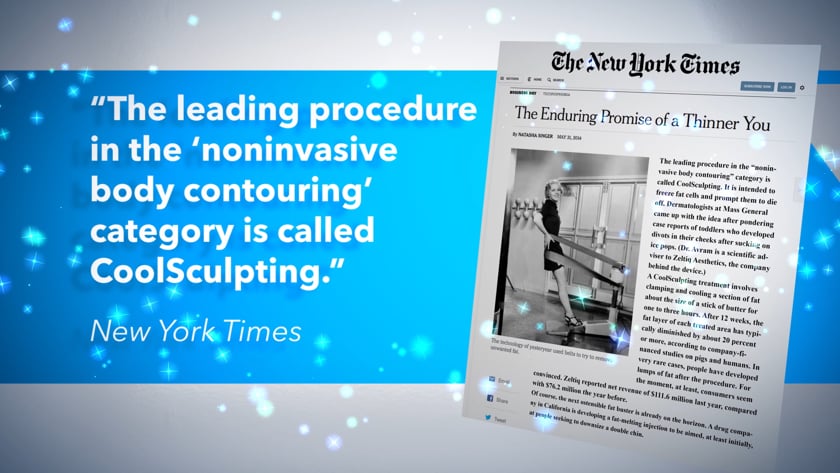 CoolSculpting Before & After*
CoolSculpting reviews will tell you how effective fat freezing is. But CoolSculpting before and after pictures will actually show you. As with any cosmetic treatment, individual results may vary. However, the people depicted in these CoolSculpting before and after images are actual patients, experiencing real CoolSculpting results.
How does CoolSculpting work?
Cool Sculpting, also known as cryolipolysis, is a scientifically developed mechanism for targeting and destroying unwanted fat cells. During your treatment, a Cool Sculpting applicator exposes bulges to precisely controlled cooling, freezing subcutaneous fat without harming surrounding skin or tissue. Following your Cool Sculpting treatment, the destroyed fat cells undergo apoptosis (cell death.) Over the span of several weeks, these fat cells are collected by the lymphatic system and processed out of the body as waste product.² This results in a long lasting, visible reduction of fat.
How much does CoolSculpting cost?
CoolSculpting is an affordable solution for long-term fat reduction. However, exact CoolSculpting cost varies per patient, depending on their treatment area and the number of cooling cycles needed to achieve desired results. During your complimentary consultation with CONTOURED, your personal specialist will review CoolSculpting prices in detail. If you decide CoolSculpting is right for you, your specialist will help customize a treatment that both addresses your concerns and matches your budget.
What Areas of the Body Can CoolSculpting Treat?
Cool Sculpting can help you achieve a total body transformation by targeting fat deposits from your chin to your knees. Currently, Cool Sculpting is FDA cleared to reduce visible fat bulges on the:
Abdomen (belly fat)
Flanks (love handles)
Submental region (double chins)
Buttocks (banana roll)
Inner and Outer Thighs
Upper arms
Back
Besides targeting larger bulges of fat, Cool Sculpting works on reducing smaller fat deposits such as armpit fat (bra bulge,) chest fat on men (moobs,) fat deposits above the knees, and more.
CoolSculpting Reviews in Scientific Literature
As the #1 selling treatment for non-invasive fat reduction, Cool Sculpting has undergone extensive scrutiny and evaluation among the medical community. The consensus of Cool Sculpting reviews published in academic journals offer scientific proof that Cool Sculpting is safe and effective.
A Cool Sculpting review in the journal of Clinical, Cosmetic and Investigational Dermatology found that "cryolipolysis was shown to reduce subcutaneous fat at the treatment site by up to 25% after one treatment." ² Another Cool Sculpting review published in the journal of Dermatological Surgery reported on patient satisfaction. Of the 518 Cool Sculpting patients involved in the study "no significant side effects or adverse events were reported," nearly all (96%) of patients agreed the treatment was tolerable and not painful, and "82% of patients would recommend [CoolSculpting] to a friend." This led researchers to conclude Cool Sculpting "is a safe, well-tolerated, and effective treatment method for reduction of subcutaneous fat. " ³
Is CoolSculpting right for me?
CoolSculpting is intended for healthy men and women who cannot get rid of belly fat and other visible bulges, despite diet and exercise. Fat freezing is ideal for individuals who want long term, natural looking results, but do not want liposuction. It is important to know, Cool Sculpting is not a weight loss treatment.
The best way to find out if Cool Sculpting is right for you is to schedule a complimentary consultation with the fat reduction specialists at Contoured.
See What Our Patients Are Saying...
"I recently had Coolsculpting done at Contoured on my abdomen in preparation for my upcoming wedding. I had no idea what Coolsculpting was, how it would feel, or what results I would get. I had my consultation with Carolyn where she thoroughly went over the procedure, expectations, and answered all of my questions. She and Amy made me feel so comfortable that day, as well as the day of my appointment! They are both so professional, experienced, and hospitable. I am SO glad I went to Contoured for my Coolsculpting experience and I would highly recommend them to everyone and anyone! I can't wait to get my love handles/back done and see my results!! Thank you both again for such a great experience!!"
CoolSculpting Side Effects & CoolSculpting Risks
CoolSculpting is a safe, FDA cleared treatment.  Although CoolSculpting side effects are rare, it is not uncommon to experience symptoms relating to an immune response. As your body works hard to process the frozen fat cells, you may experience mild bruising, redness, tenderness, or numbing in the treatment area. These symptoms typically dissipate quickly and do not restrict daily activities, including exercise.*
During your complimentary consultation, your specialist will discuss CoolSculpting risks and side effects in detail and prepare you for your upcoming treatment so you know what to expect.
Schedule a Free CoolScuplting Consultation in Chadds Ford!
Please call 610.787.9154 or fill out the form below to schedule a one-on-one CoolSculpting consult with one of our skilled practitioners. We can answer any questions you may have, and help you understand whether the procedure is right for you. Our office serves Chadds Ford and the surrounding areas of Pennsylvania.